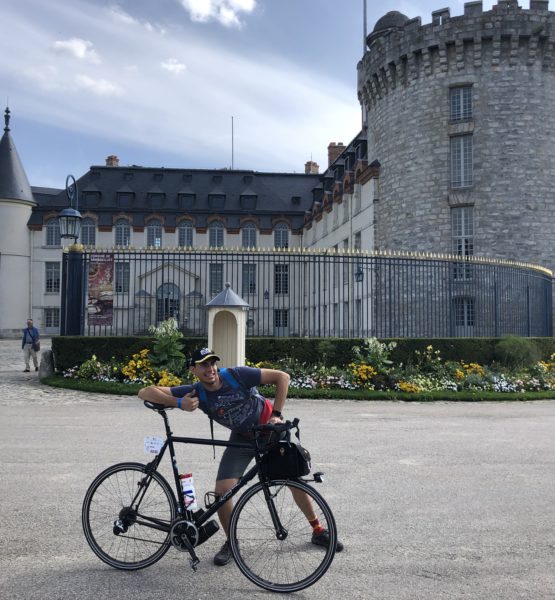 PBP 2019 – My Story
We'll start with 2 days before Paris-Brest-Paris.
Colin and Ross, both experienced PBP riders from BC, suggested to me that a smart idea to help yourself demolish the last stage of the event is to take the train out to Dreux and then ride the final kms of PBP. Knowing the final kilometres they say, will help the tired mind pull the tired body along to the finish.
With the 2019 new start in Rambouillet, and our hotel in Maurepas, this involves either two separate train lines, or a ride to the second line and then training to Dreux. We opt for the latter. Myself, Jacquetta from BC and Jacques from Alaska set out on a brief adventure to recon and spin the legs.
Our route to the station of Plaisir from Maurepas reminded me again of the limitations of Google Maps. We start to follow a "bike trail", essentially a soft gravel path with cavernous water ruts and speed-sucking sand that tested the stability of our steeds and our handling skills. A short pass on a farm field, then up a tiny side road and we're once again on a ridiculous rocky incline – probably around 12% – a farm path which callously ejects us out onto a smaller highway. Okay, so maybe we should stick to car roads from now on.
Adjust the route in Google Maps, and we're following a nice paved section of road… which takes a cloverleaf exit onto a dual carriageway. Quite the opposite extreme. Fortunately we see a nice separated path that we abruptly halt our bikes on the highway to jump onto. From there it's mostly straight going onto Plaisir.
15 minutes pass on the train we catch, and I habitually glance at my phone and Facebook (bad habit!). It turns out to be fortuitous in this instance, however, as I see the route from Dreux to Rambouillet has just been altered. Thus began the learning of how to load a track onto my Garmin Edge with solely my phone and an internet connection.
Surprisingly, this worked well, and we were off on the new last leg of the route soon enough. Beautiful fields with fierce crosswinds, aged but deserted small towns and twisty corners were the theme of the ride (and indeed much of PBP!).
My Garmin of course, dies halfway through the ride, and I did not bring charging cables. So out come Jaquetta's elastic bands to attach my phone to my handlebars. I had recently attached stubby aerobars to the bike (as they are now permissible within ACP guidelines) to aid in windy sections – they also proved to be a helpful mounting point!
We rolled into the soon-to-be finish quite satisfied with our ride, and enjoying the beautiful scenery.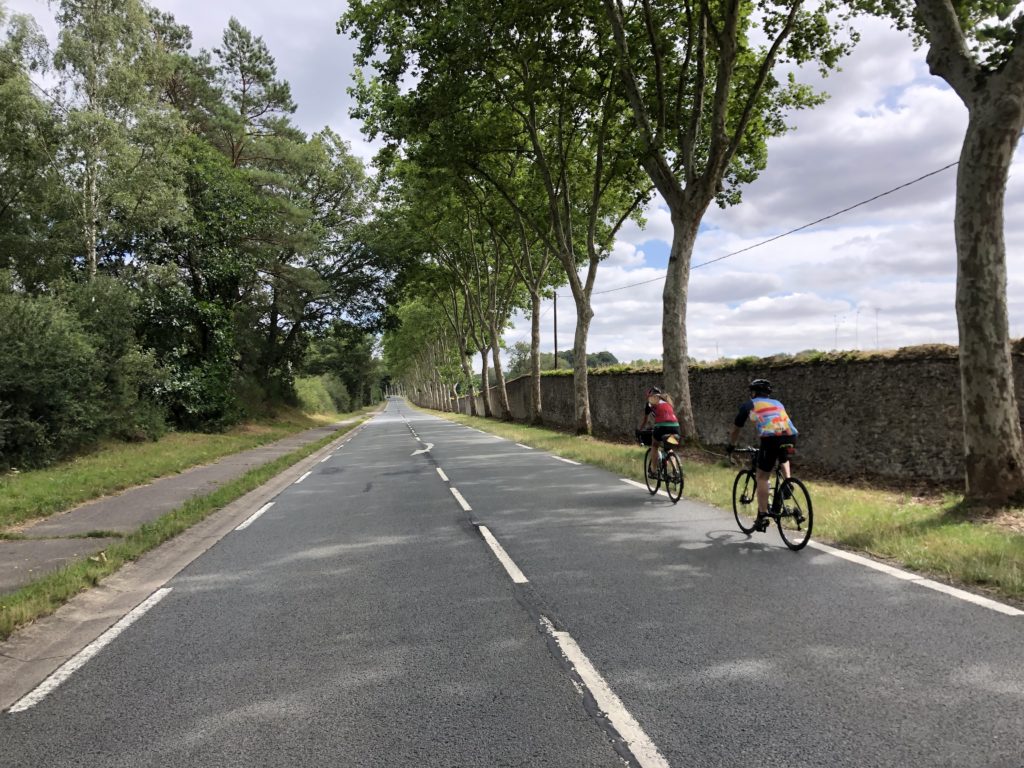 I am thankful for this ride, as the finish came in the dark for me, and I was able to enjoy the last section, along with some nice bike routes!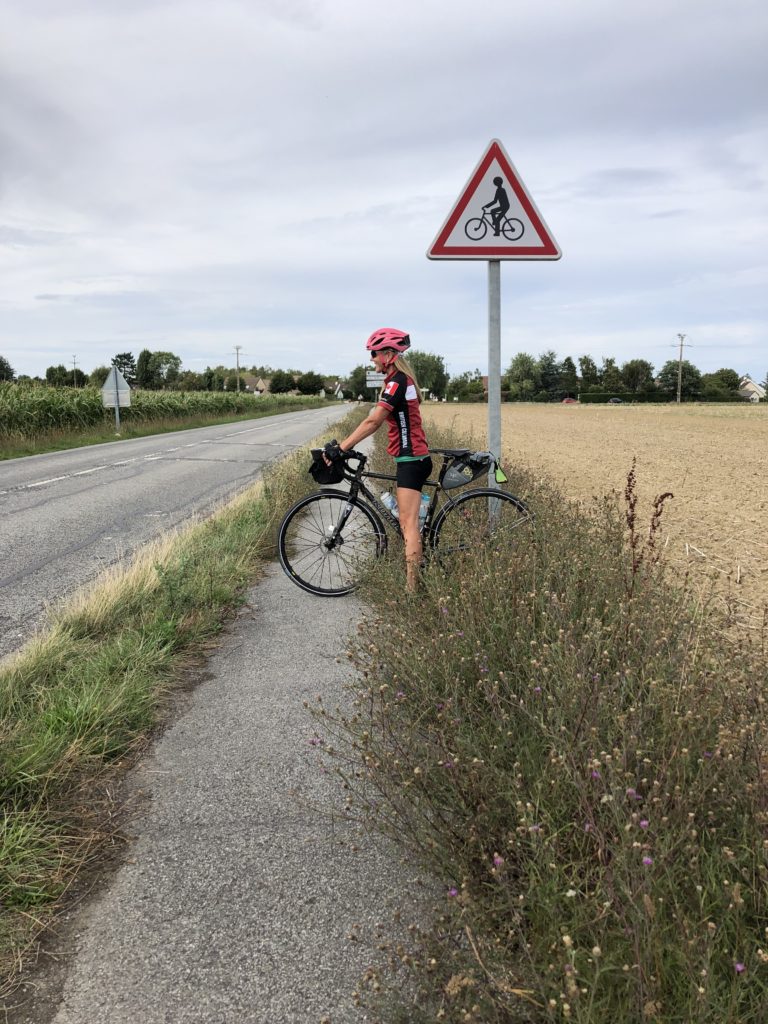 Registration proved wet but uneventful. I was able to say hello to many riders, join a Canadian and BC photo, as well as greet a rider from LEL that I had ridden with.
Sadly, I knew of only one rider in my start time – Mick Walsh of Seattle – but he was riding supported and lightweight, and would likely be long-done by the time I finished. 
Riders on trains!

Bike Parking

Umbrellas are handy!

Beer through there…

Umbrella + Bike on Train
My start time was 16:00, the "A" riders. First group on the road, full of many riders trying to push their limits for a fast time. Many, like Mick, were supported.
Within the rules of PBP, this means they were allowed a support vehicle to meet them at controls to refill their bottles, provide them with snacks and clothes as needed, so that they could speed through the stops. Seemingly also permissible was en route support, so long as the support was available to any other rider who stopped. I'm not exactly sure this was the case or if this was checked, but there were many camper vans/motor homes en route which I saw riders being supported at…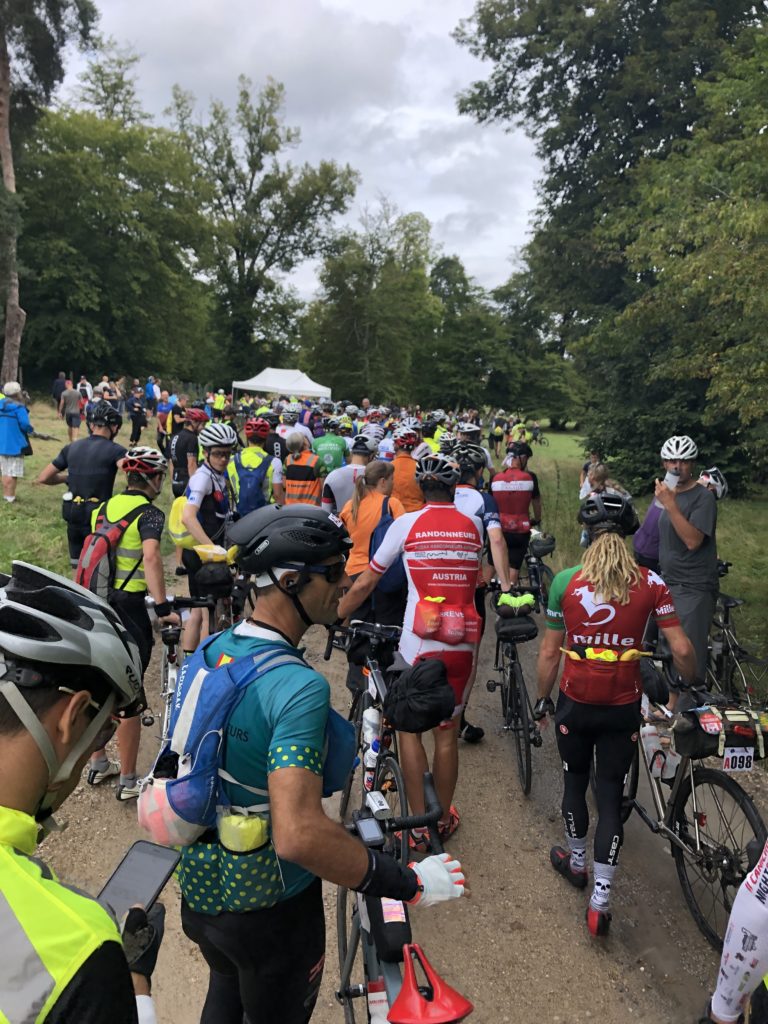 At 15:00, I dutifully rolled myself over to the start, to find myself at the back of the pack. A huge gathering had already formed. I was able to meet two Canadians, Chris and Fred, which was nice to see! I did not feel particularly bothered by slotting in myself behind most, as my ride plan was to involve only a brief stint with the A's, before dropping off to a sustainable pace and a group I could carry forward in. Beyond that, my ride plans were vague and amorphous. I know myself to perform poorly after long sleeps – while I awaken refreshed, any aches or pains are "reset" and I have struggled with knee pain and tendonitis in the past.
There were a few other pieces of PBP-specific information that guided my vague plans. Ross had informed me that the first stops were often quite busy and to save time I should take as much food as was reasonable to carry for the first legs, ideally to complete the first 217km to Villaines-la-Juhel with minimal interruption. I knew the sleep controls could be packed, so I had the idea of pushing through until a later point to sleep, maybe 700km?
So I had with me:
several bars and gels
Salt pills and one drink powder packet
Caffeine pills and ibuprofen and paracetamol
3 Ensure high calorie bottles
Rain jacket and booties
Arm/leg/head warmers + long fingered gloves and a vest
Two changes of bib shorts, a spare jersey and socks
Antibacterial wipes and a small quantity of chamois cream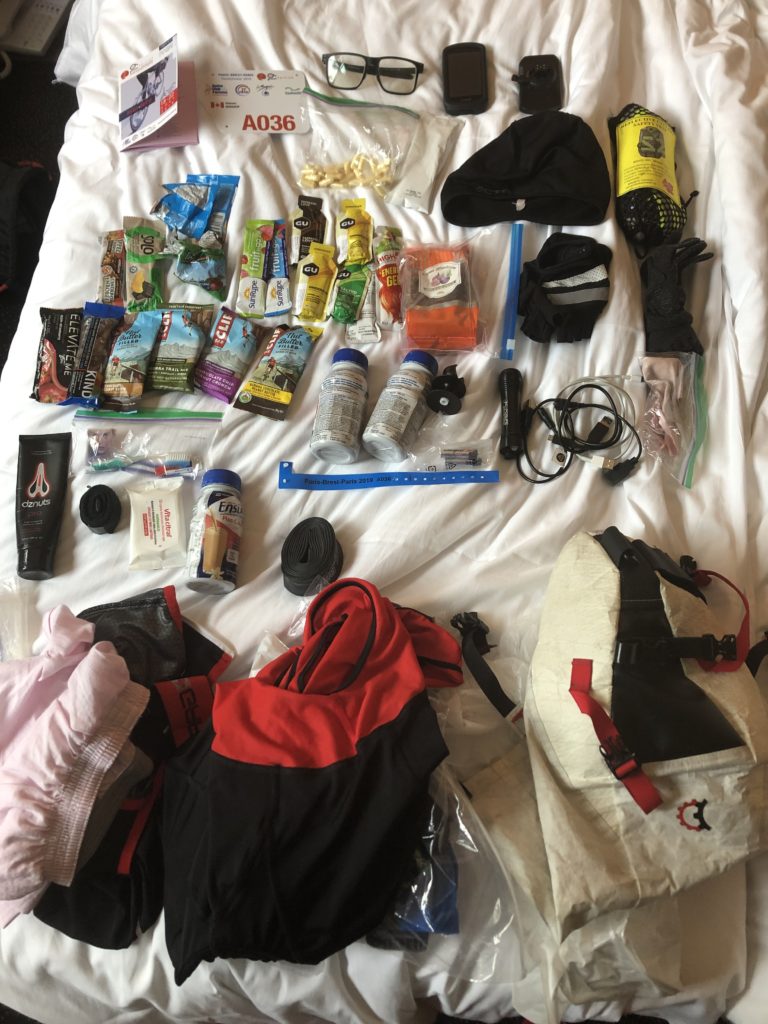 This was all carried in my handlebar bag and my seat pack. My Garmin was to be charged from the Garmin external battery pack, and that was recharged by my dynamo hub during the day. During the nights my lights would be powered by the dynamo as well.
The start was… aggressive. The rapid pace split the group a few times, and more than once I was forced to expend more energy than desired to bridge across gaps to remain with the main peloton. In the peloton, riders swarming over the road like bees, expanding around every inch of available space. They disregarded the centre line, blew past stop signs and blazed through towns. When there was room, motorcyclists would squeeze past the group to stop traffic in towns and warn cars of the oncoming storm. Other times, cars would rapidly stop and pull over to let us through.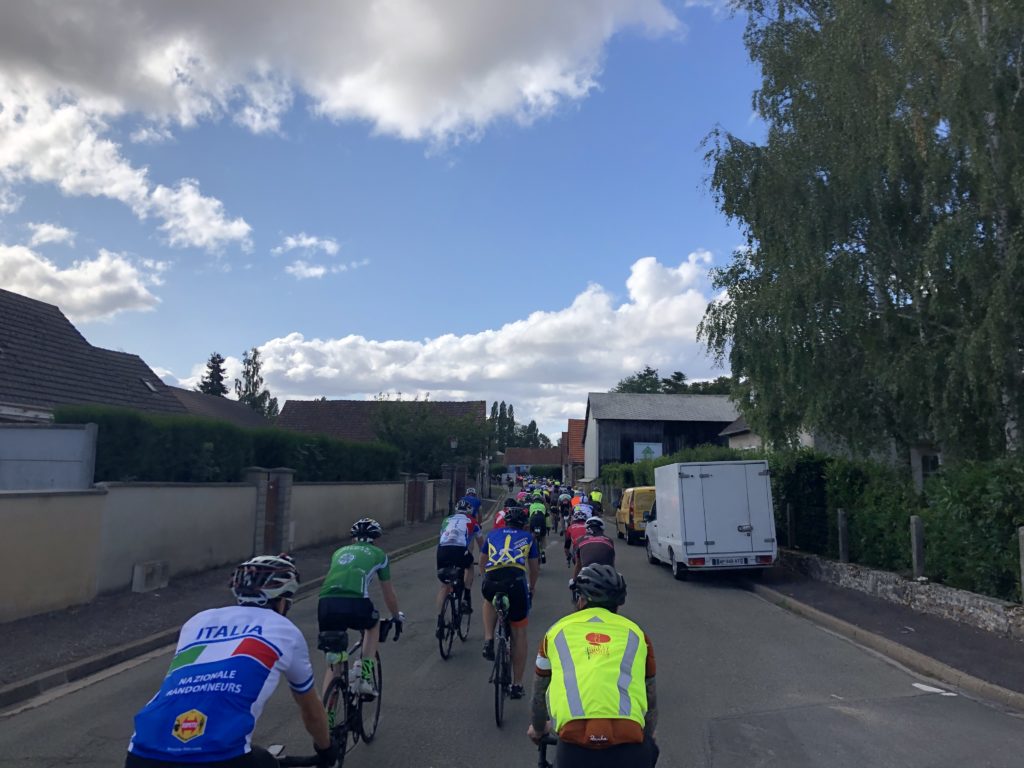 Coming from road racing, I was not stressed in such a big group – it was easy to move up around the edges, up hills and around some wheels. But there was definitely mental work involved in assessing the comfort level of many other riders, and avoiding any exuberant wheel-following or reckless braking in order to keep myself upright. Riders were mostly on carbon bikes, but Greg Kline from the USA (nameplate on his bag!) was handily handling himself on his steel bike with downtime shifters and full metal fenders. There were at least a couple crashes before we reached the open field sections with heavy crosswinds. 
In these sections I was glad to be in a pack. I was also able to say hi to another Canadian, Tiago, who was contentedly rolling along in the group as well, it seemed.
Of course, we all know that everyone goes too hard at the start of PBP. I knew this and wanted to monitor my power output carefully during these opening kilometres to ensure that I did not blow too many matches. But what I was reading as reasonable may have been reasonable for a 4 hour road race, it was not for a 1200km bike ride. Thus, it was after an hour of the "A" chaos that I decided let the group go when my power output remained far too high.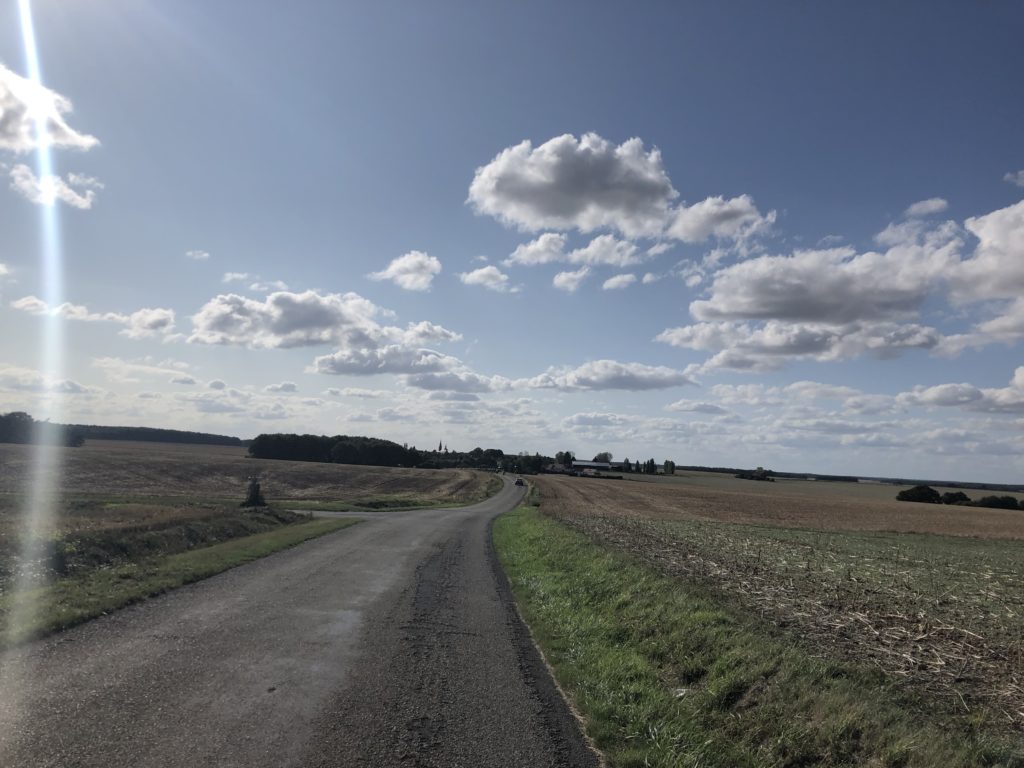 Only, the problem was, I would ease off and fall off the back, only to chase the group across a particularly windy section of road, and due to my steady pacing, rejoin them on the other side of the section. So why not just try and stay with the group? The headwinds certainly sucked. Another 55 minutes passed with myself dangling at the back, popping off the back quickly and returning slowly as an elastic would that is compelled to retain its form. I later learned that it was much easier to ride in the top 40 of this group. Definitely tidbit I will no doubt remember for the next time I do this? Will I even… never sign up for the A group again.
After 2 hours of the front pack's pacing, I was hurting, and had gone out too hard, exactly as I intended not to! The true PBP experience. ? 
I greatly reduced my pace to ride at a slightly-slower-than-planned pace in order to recover and await the next group. Alas, that group did not find me for at least 15 minutes, and I got to spend some quality time ploughing the fields of headwinds. 
The time did pass, and I was caught by, and joined, the "A rejects". This was a sustainable pace, and it appeared this group might last a while… except soonafter, the B group came flying by, attempting to pursue Marko Baloh. Clearly too fast for my intentions, I stayed to the right to see who might also relax, but many riders decided to try their luck hopping onto this train. This lead to a bit of a chaotic group and within a few short minutes there was another crash just in front of me, with two riders down on the road, and Canadian Chris diverted into some barbed wire. Luckily, nothing too serious, just scrapes. 
Eventually, the swarm around me settled into a group that continued to ride steadily towards Mortagne-au-Perche. There was a minor rotation, except on climbs, where inevitably I would fight with the urge to hold the wheel of the rider in front of me precisely (opposed to my usual slow pace up all the minor climbs), and the descents, where my weight aided in gaining some splendid downhill speeds.
Content that this pace and terrain would push into the night, I dismounted at Mortagne-au-Perche and stopped for a bottle refill as well as to down a coke. I debated waiting for the friendly Chris, but he was not as efficient as I at the stop, so I pressed on. I had forgotten it was only a stage so I asked where the cards should get signed and was told it was "further down". I was not sure if this meant just ahead or the next stop (and was admittedly worried I would have to re-climb the steep hill out of the control). Thankfully another rider confirmed for me that the first control signing was at the next stop. I plowed on for a while solo, stopped briefly in Beaumont-sur-Sarthe to grab water, and hopped happily onto the next group behind. From there until Villaines-la-Juhel, it was a sustainable pace through the rolling hills, where I flitted between several groups as the night set on.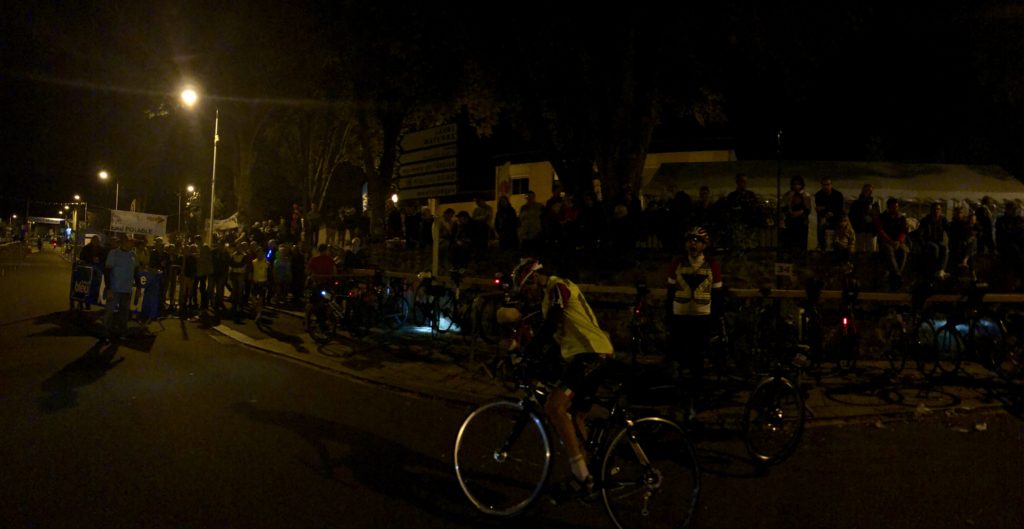 Arriving at Villaines-la-Juhel at the cusp of midnight, I was amazed by the walls of people on either side and the party atmosphere. There I ran into Tiago again, where he kindly took a photo of me and the ambiance. I felt a little stunned at the spectacle. Once I'd recovered and snapped back to action, I threw on my knee warmers and a vest, got my cards signed and filled up my bottles at the taps. I was beginning to understand the flow of the controls with regards to food and water. On the way out I laughed a bit at what looked like Jan Heine sitting in the grass layering up in a most awkward fashion, and yelped in delight as Keith Fraser of BC and more of the B group lumbered by. We left the control together.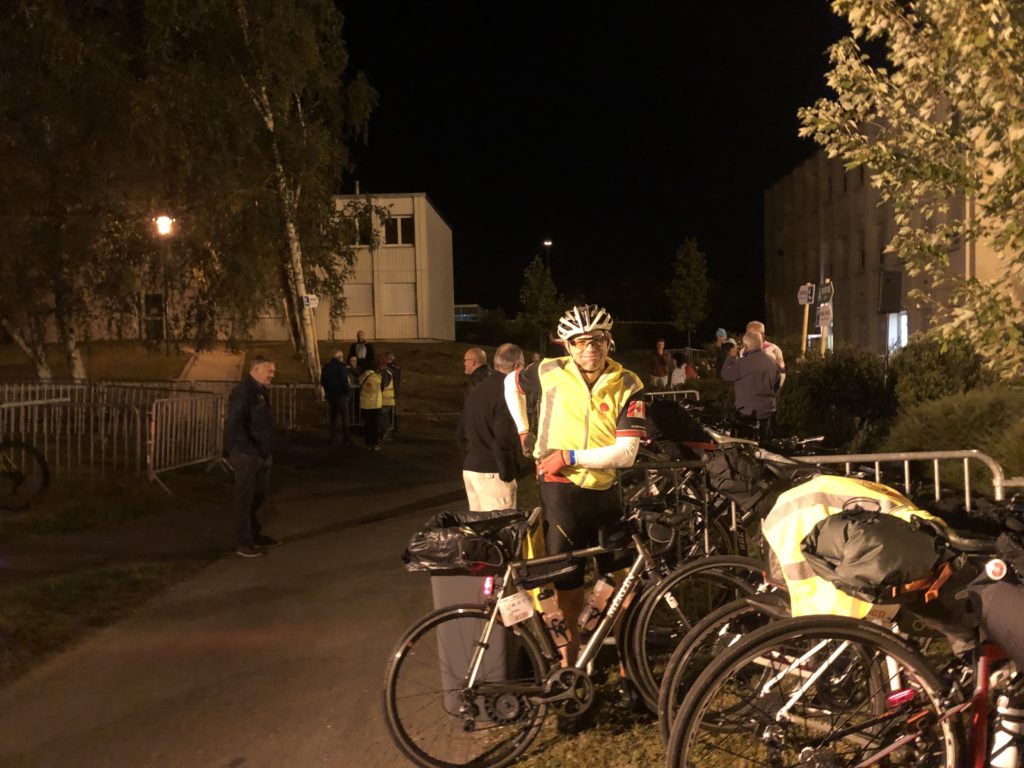 We rode alone and chatted for a few Kms, surprised that no group had caught us. All of a sudden my Garmin beeped and told me to take a U-turn. Assuming this meant we had missed a turn, I announced this to Keith, who assured me we were on the right path. At that same moment, several riders came past and continued ahead. Unconvinced, I turned around to return to the last intersection. Finding an arrow, I glanced back, and figured that Keith & co. would notice soon enough, so I carried on. 
It was a reasonably efficient next section as well. A couple small groups were around to flit between and slot into as I did my slow-up, fast-down thing. I continued to snack on bars and water frequently. We arrived in Fougères in what my memory would like to say was, "no time at all", but I am sure was time and effort on the road. My shoulders were also starting to bother me, so I figured I ought to adjust my bars.
I rapidly went inside to grab a coffee, croissant, and pain au chocolat, duly noting that those were the only two vegetarian food options. Outside as I prepped to move my bars up 1cm (I run an extra spacer on 1000km+ rides, along with a 0.5cm lower seatpost to prevent the tired body from accumulating more aches. Typically I lower the seat later in the ride, around 600-700kms). I saw Keith come by and shouted to him. He asked if I was to leave soon, and I said he could leave if he wanted as I would be around 5 minutes. He seemed okay with this and said he would wait, but then quickly changed his mind and said he would "slowly ride up the road. You'll catch me for sure". Once I was done and feeling better, I understood that it was Keith Fraser slow – he definitely latched into a group and whizzed away. Fortunately for me, I latched on to an even faster group and caught his group about 2/3 of the way to Tinteniac.
As we pulled into Tinteniac, I asked if he had any plans to eat a more substantial meal on the way up. As expected, "not this early into the event". We did however stop, and I excitedly pointed out the bananas and cheese sandwich that satisfied this hungry vegetarian (technically I do also eat sustainable seafood, which is easy to find in BC, not so much in France). We did the control cards and bottles routine, and then had a coffee and munched on some food. I had with me some ziploc bags, and was able to throw the flaky croissants into them as I did in the last control. It was nice to sit down, if only for a brief while, and Keith appeared to be in a bit of hip discomfort. 
Bananas and a cheese sandwich. Just the thing for breakfast!

Keith Fraser, 2019
Soon we were off on the road again, to be shortly joined by some others.
It had been a pleasant night, and it would be first light soon. I was starting to doze a bit at the dawn, but thankfully it was not too difficult to hang onto the group. We flew past Quédillac, nobody seemingly interested in a stop. A pair of Swedes were the only two consistently pushing the pace aside from myself, and thankfully did not splinter the group significantly when the hills of Normandy started. Keith seemed to think he would be ejected on the hills, but managed to stay with the group for the stage. The sun brought views of windmills and corn, and a small warmth that allowed me to return to just a jersey and warmers. I also met another Canadian, Peter, who was originally from Calgary, but now lived and rode in San Francisco. It was in fact a very strong group of San Franciscan riders I followed into the control, slightly ahead of the rest of our group. 
Before I knew it we were checking in at Loudéac, some 16 hours into the ride.
Here there were also cheese sandwiches! I grabbed the usual croissants and coffee and banana and prepped to head out. Keith informed me that he was going to hard and would need to slow after a while, but would like to continue together if we could. So while he went to the washroom I rearranged my bag a bit and then we headed off.
On the first hill he had significantly slowed, and I, unsure how hilly the next section was, waited for him. However, on the next hill it was clear how much he was slowing, and that the next section would be significantly windy. When Peter rode by, I sped up slightly to follow him, losing Keith in the process.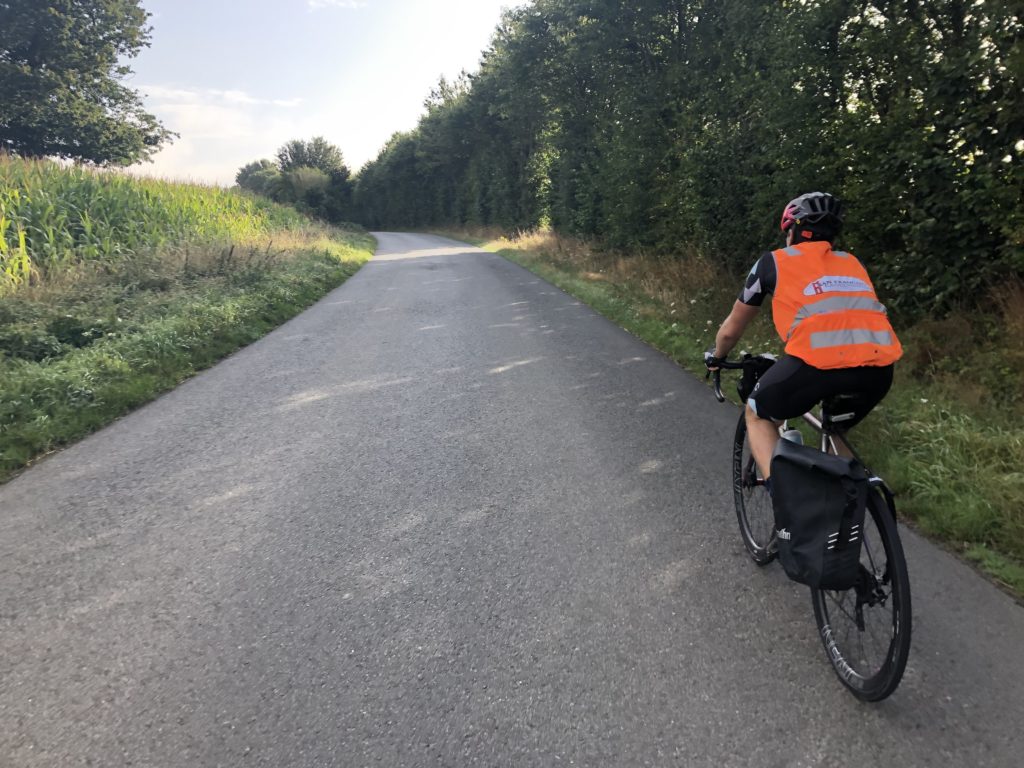 For a couple KMs of relative flat, I pulled Peter, excepting to take advantage of his climbing skills on the uphills. However, a couple fast French riders came by, and he immediately left me, so I was left to push ahead solo.
Fairly soon after I found myself rolling by Saint-Nicholas-du-Pelem and was told it was a control. Guess that's our secret control! I didn't want to make an extended stop, but did need some food, so I checked out the snacks. Chocolate crepe! That's new, and the usual croissant as well as a jug of orange juice (I couldn't quite figure out how to get water there). There was soup on the menu, which my eyes widened at and I asked for – but of course it wasn't ready yet.
Quickly downing the food, I used the portapotties and pressed on.
Pulling into Carhaix, I knew it was time for a meal. I was also experiencing some knee and ankle pain which I knew I would have to address. This was also a control in which I forgot my bottles on my bike, so would make several trips between the bike, washroom and cafeteria in order to: change shorts (a satisfying milestone), fill bottles, lower my seat by 0.5mm, eat some yoghurt+reluctant fish (broke my diet just to get some proper food)+rice and pick up the usual croissant and banana. I also knew my knee pain had come from moving my cleat forward about 0.5cm in an effort to reduce hot spots on my feet, with the effect being a shorter leg length, hence the pain. I decided that hot spots were more endurable and less damaging than knee pain, so moved the cleat back.
I thought I glimpsed Keith as I pushed onwards, but did not stop to wait as I had already spent a significant time period at the control and was anxious to keep moving.
From here until Mortagne-au-Perche on the return journey, I would ride predominantly solo, interspersed by brief periods of groups for at most 12kms.
I also knew from my notes that in this section, the longest between controls due to distance and elevation, I would have to stop for water.
However despite the hills and lack of riding partners I made steady progress; before I knew it was climbing the Roc'h Ruz (name yet unknown to me). Finding it rather windy and cold at the top I figured I would stop at the next place I saw for water. It was a pleasant zippy descent and just before taking an "arrête naturele" I saw the leading 6 riders just at the base of climb on the other side, Marcoh having completed his catch. 
I had quite a pleasant rapid water stop in a Martyre, where I was given water for my bottles and in a cup to keep, along with a photo taken and my email given to hopefully receive the photo in the future! A prime example of the kindness of strangers on the PBP roadside.
After some further riding, I was eventually joined by a small peloton as I finished another "arrêt naturele". We were then joined by a couple French youth racers out for a ride, and subsequently a small club ride which escorted us the remaining 14km into Brest! If a gap opened up at the front of our group between some riders, a very kind and strong old man would power his way in and drag us together again. There were some Americans and other nationalities in this group, but primarily French who were merrily chatting away with the club riders. About what? – who knows, as they weren't really interested in conversing with the rest of us. 
The sun had come out to blaze down on us, and I was getting tired of riding (mentally) so I pushed on ahead into Brest.
After the picturesque bridge that ends up in everyone's photos, I turned off onto the bike path, then immediately made a wrong turn and the group caught me once more. It felt like a long drag into the control through town, but the old rider encouraged us on – even riding into traffic and telling cars to wait for us when they weren't yielding to our group. I pulled ahead again on the uphill and eventually was able to roll into the control, relieved at the respite. 
The snacks were not much except croissants and I still had my banana from the last control so I headed over to the restaurant (it was not close to the control!) to refill my bottles and see what I could eat – yoghurt, some pasta and more coffee. I pulled out my last Ensure from my saddle bag, slathered on sunscreen and off I went into the sun back to Carhaix. It was a very circuitous route out of town, but touristic, and I enjoyed the views and ambiance. 
Climbing Roc'h

Into Brest!

Famous Brest Bridge

I would ride most of the ride near this person Christophe, according to Strava Flyby

Inside the Brest Control

Brest control outside

Touristy route
The climb back up the Roc'h was uneventful but steady. I was chasing another rider who I would gain time on during every steeper section of the road but lose time during the flatter sections, or when I stopped to adjust a couple things.
At the top of the climb I was through my water and pulled off at a camper of a lovely family. They were excited to see a Canadian and offered me water and cake, for which I exchanged a BC Canada Day Populaire pin to their young kid.
Heading down the road, I would begin to feel my stomach rumble and become unpleasantly gassy, warnings of what was to come.
I did get to wave at the always-concentrated Mike Hagen and later Paul van Wersch as they headed to Brest – a nice morale boost.
The first section where the return road split from the outward road was not very pleasant. Rumbling trucks blazed by and little views awaited at the top of laborious climbs. Combined with the stomach feelings, I was not having a good time. Unsure of whether or not I could trust my stomach, I decided I would stop at the next toilette I saw. Unfortunately this would not come until the Carhaix control, and by then I was in considerable discomfort. It felt like I crawled up some of those climbs. To make matters worse, this control has but one toilet stall. After an eternal wait, I entered and discovered that something was indeed causing gas, but also a cyclist's enemy – diarrhea. Hoping this would be the last of it, I left as fast as I could after this visit (4 people in line for the toilet when I exited!)
The control was definitely starting to get busy at this point.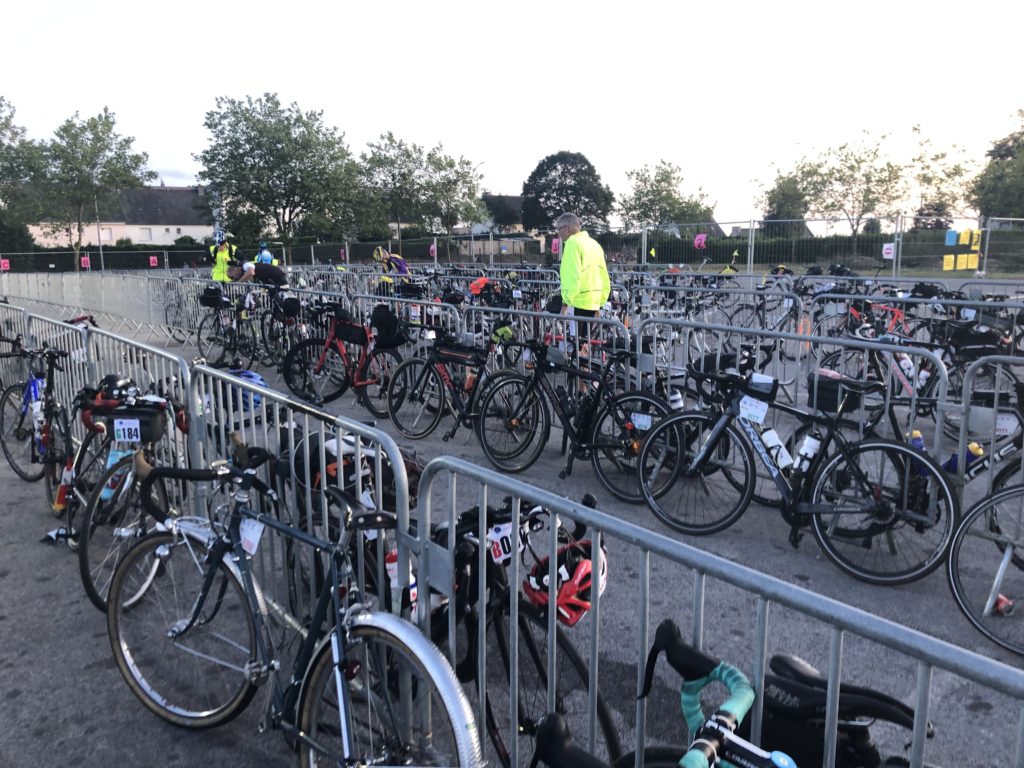 Night started to fall. This was definitely the challenging section of the route for me. I was starting to get sleepy, and forever needing the toilet. I popped my first caffeine pill at this point. I had previously decided to limit my intake to just the control coffee on the way out, and only use the pills on the return journey. The caffeine kicked in, and I felt much better after short time. The next section was subsequently more enjoyable, and I maintained a stronger rolling pace through the hills. I met up with a French rider, and hoped to strike up conversation with him, but he wasn't really a talkative one, nor very friendly, despite my attempts! 😛
Additionally he was having trouble seeing the control signs as well as hallucinating things on the sides of the road. At least he was riding straight!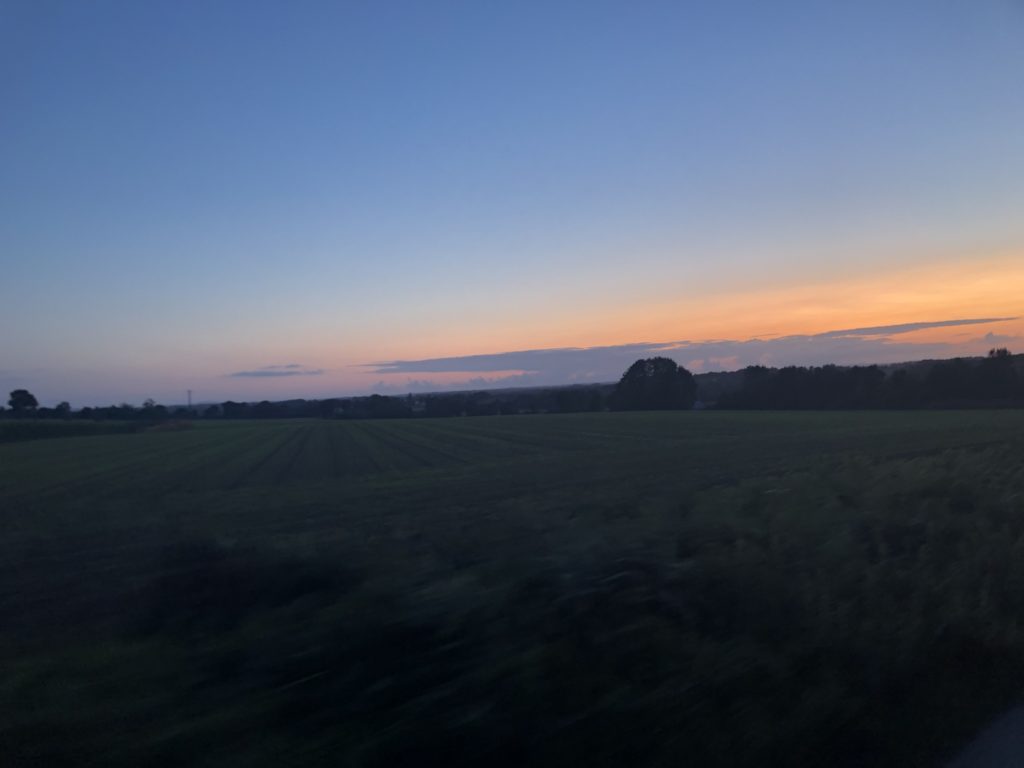 Passing again through Saint-Nicholas-du-Pelem, he decided to sleep there after a bit of complaint about the arrows to the Controllers (I did tell them I saw the arrows just fine and not to worry).
I asked if there was a medical station in hopes they might have something to help with the diarrhea, but was informed I'd have to head to Loudéac. So I used the portapotties again, this time in the bitter cold and dew-covered grass. Very glad I packed hand sanitizer on the ride.
A few folk were heading off and I figured leaving quickly would not only get me to the "medical people" faster but maybe make staying awake easier. Besides, it was only 45kms to Loudéac. I started alone and it was about an hour before I caught an Englishman struggling his way through the night. Turns out he was quite the adventurer, having done the Transcontinental race earlier in the year and planning more of the ultra racing later on. (Adrian Allcock if you ever want a dot to watch!) And he happily informed me he was visiting Canada in a couple weeks. We passed through some bitterly cold sections, but they were only minutes in length so it was never worth changing layers, as we'd inevitably climb up a short hill right afterwards. Temperature control became a bit challenging. There were a couple blazing descents in this stage that went through side roads with uneven pavement and gravel that made for… exciting riding in the dark. I was thankful for the Garmin's display of the route, as I could anticipate the turns rather than following last-minute arrows in view. The pair of us eventually caught and passed another pair of European riders. The nights were becoming more sparse!
Finally we reached some bigger hills and I, dying for the washroom once more, pressed on hard up the hills into the control. Amusingly, my pattern had become: arrive at control, stuff water bottles into back pocket, washroom, then control and water. Priority shift ?
Loudéac was right at the head of the bubble it seemed. Riders were sleeping everywhere and the bathroom line was considerable. I was sent to a second set of washrooms; each set of bathrooms had someone checking the washrooms after every rider and directing them to a stall (2 sets of outdoor stalls). I of course, would run out of toilet paper in my visit, and have to get more…
After the business was done, I had my card signed and asked where the medical station was. Walking in, I had to sort of mime/explain the problem as diarrhea sounds very different to "diarrhée" apparently. After lots of thought and about 5 or so minutes of filling in paperwork, finding the medication, reading every single side effect, they finally gave me what appeared to be a gel shot of medication. I was dubious, but took it, thanked them and went to acquire food. I got a cheese sandwich (none were out, I instead had to ask them to make me one, which they did!), yoghurt, small coffee, and the usual croissants. Upon leaving, felt the urge to use the bathroom again. However, naïvely, I trusted the medication, and left the control.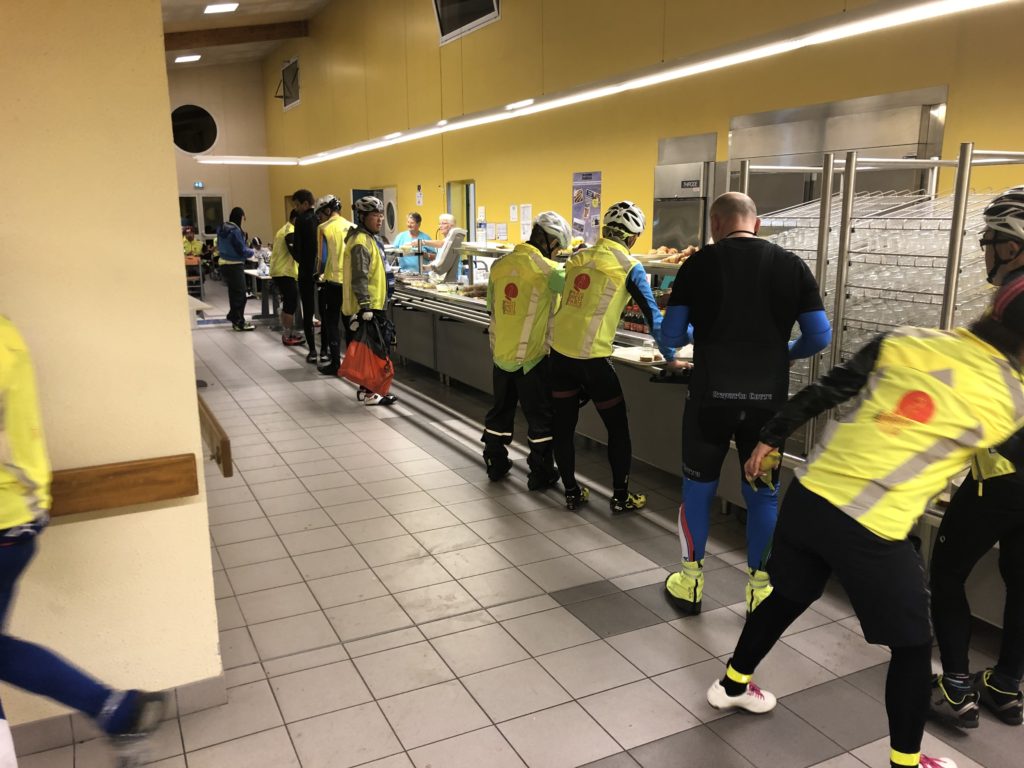 The roads were filled with riders going the opposite direction at this point, and I was riding into a never-ending stream of headlamps in the night, "obnoxious fireflies" I would describe them. It's also impossible to see ahead of you down a hill with so many lights, so you have to just keep a light grip on the bars, let the brakes go and hope for the best…
In a short period, it became clear I would have to stop to use the toilet again. In an even shorter period, it became clear I would not find a proper toilet. So into a rest area, and behind a tree I went. Pro-tip: Antibacterial wipes are great as toilet paper in a pinch.
So I'm feeling okay, time to press on. I'd found the last stage very slow in terms of how I was mentally processing the distance and time, so when a rider came by that looked familiar as I was clipping in, I happily pushed a bit to catch up. Turns out it was Greg Klein that I had seen in the A peloton way back at the start. Of course I knew his name from his tail plate, not from actually talking to him, so I introduced myself, we got chatting and I learned about his rides all over California, and his pseudo goal of riding a Charly Miller time https://rusa.org/pages/CharlyMiller. To my amusement, we then caught up to Ian Hands, son of the famed Adrian Hands https://adrianhandssociety.com/ who was going to be the first individual to be both a member of the Society of Adrian Hands and the Charly Miller Society. Oh and he was riding a fixed gear… so he would be only the second rider to complete a Charlie Miller time fixed (Spoilers, he made it). Technically he finished before Mark Thomas of Seattle too, so he really was the first to do both 🙂
But Ian was not as fast as we were on the rolling hills for obvious reasons, so we pressed on. 
Time crawled by and eventually we reached a long flat, fast section leading into Quédillac. I finally saw a hotel, which I likely would have stopped at had it not been only 6 or 7 more KMs to the stage. There were three of us as we passed the stage, and although Greg welcomed my company, I had, of course, to stop at the bathroom. I figured I would also use the opportunity to change my shorts as well, as it was finally the last third of the ride. Another milestone, but not as happily celebrated. As it was still night I didn't end up changing my shirt to my spare.
Unfortunately, many riders were also sleeping at this stage (and some partying!) which meant the toilets were fully occupied. It took me almost 10 minutes to get into one (I was worried the riders in the three stalls had fallen asleep honestly, with the lack of movement and sounds). 
So in, quickly do my business, new shorts, new chamois cream, vigorous hand wash, and off I go! (Well, after acquiring a croissant).
The solo section into Tinteniac was short (well-appreciated!) but when I rolled into the control I was definitely feeling a bit sleepy. I decided to give the medical station another go, so after the bathroom and control stations, I headed over. Once again, I struggled to explain in French, but somebody spoke English. They were reluctant to give me two of the previous medication, and instead sent me away with a pill and some powder to help my stomach. I was to eat, then 15 minutes later take the powder. This visit was undoubtedly more successful than the last (although the medication proved equally useless).
Dutifully following instructions, I went to see if there was food. The restaurant just had to be up some stairs, which I very much struggled to climb in my tired state. There were about 15 or so people in the cafeteria, 4 of which seemed semi-conscious.
As for actual food, the cafeteria had pasta, which I happily asked for, but then discovered they only had meat sauce. Annoyed, I apologized and asked the server to put it back, instead opting for some apple tart and the usual croissant/banana combo (sense a theme here?).
Scrambling down my food, I exchanged a few words with a Brit who asked if I wanted to ride with him to stay awake in the next section. So I went out, started donning my clothes and popped a caffeine pill, and he joined me, along with a Spanish rider.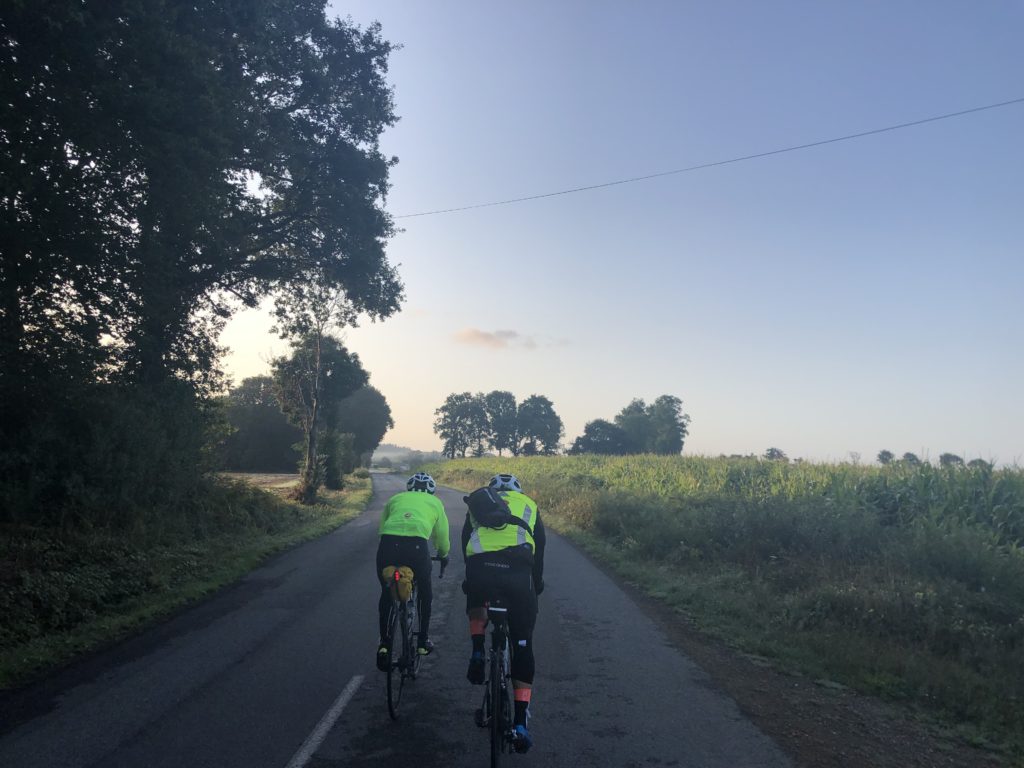 Off we went, me feeling okay and the two of them struggling a bit to get going. I slowed for a bit at my 15 minute timer to consume my powder, and mixed it in with my bottle. I didn't really think it through though, and realized that I would have to drink the entire bottle to get the powder in me. This I did, and over the next half hour had to take lots of pee stops!
The first stop timed nicely with the burning off of the dew and the arrival of the sun.
The three of us changed layers, and just as we did so, a train of riders came by – several French lead by a Swede. The pace was pretty viscous whenever the Swede got to the front, then eased a bit when he pulled off for some rest. So not the most consistent rate. Eventually he pulled off to pee and the group stopped as well.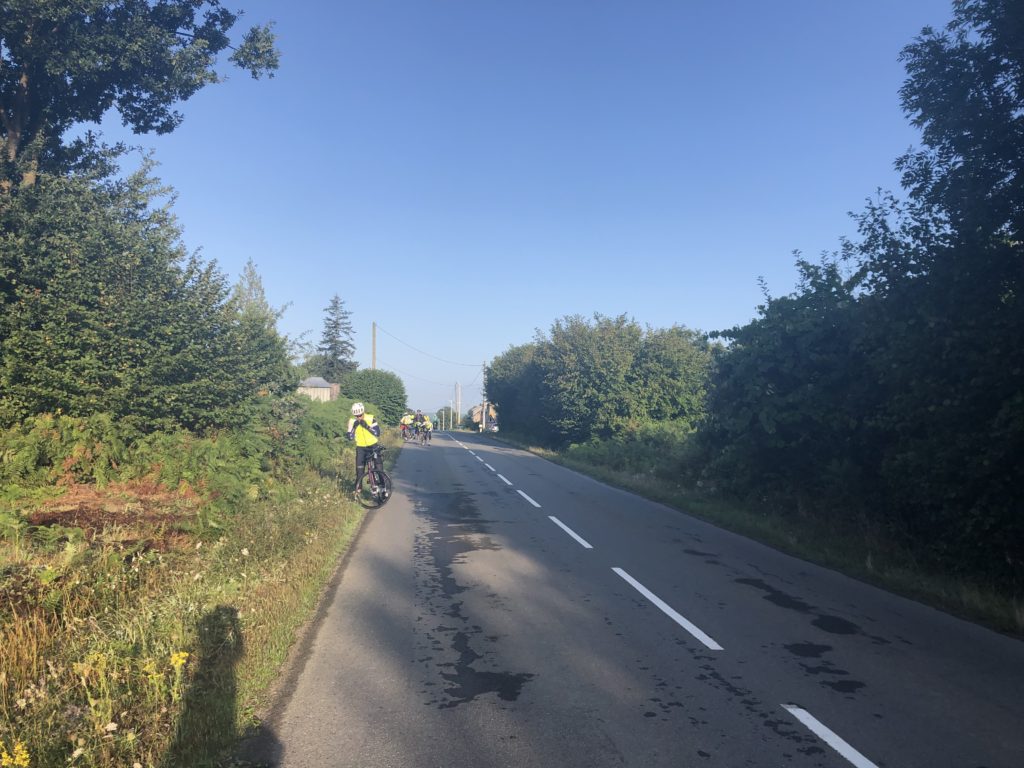 However my British and Spanish compatriots decided the pace was silly and decided to push on ahead. I did not notice this until maybe 4 minutes had passed and I began to roll ahead slowly, knowing I would be caught. Sure enough this was the case, and in no time the Swede "pain train" was back and accepting passengers. We picked up the other two shortly thereafter and were mostly a group until the outskirts of Fougères. There, the terrain included more punchy hills. Punchy hills do not suit me at the best of times, especially not tired with my weighted bike. So I dropped off the back of the group, expecting to see them at the control.
It was a sunny route into town, and I knew I would be slightly sunburnt at the end of the ride as a result. It was also very touristy – far more so than the way out, so when I finally arrived into the control, I was quite happy to hide inside. I acquired some – you guessed it – croissants, another small coffee, and went to the washroom. Note the order change! I had a brief but friendly chat with the on-site security about how I was Canadian, but no, not from Quebec.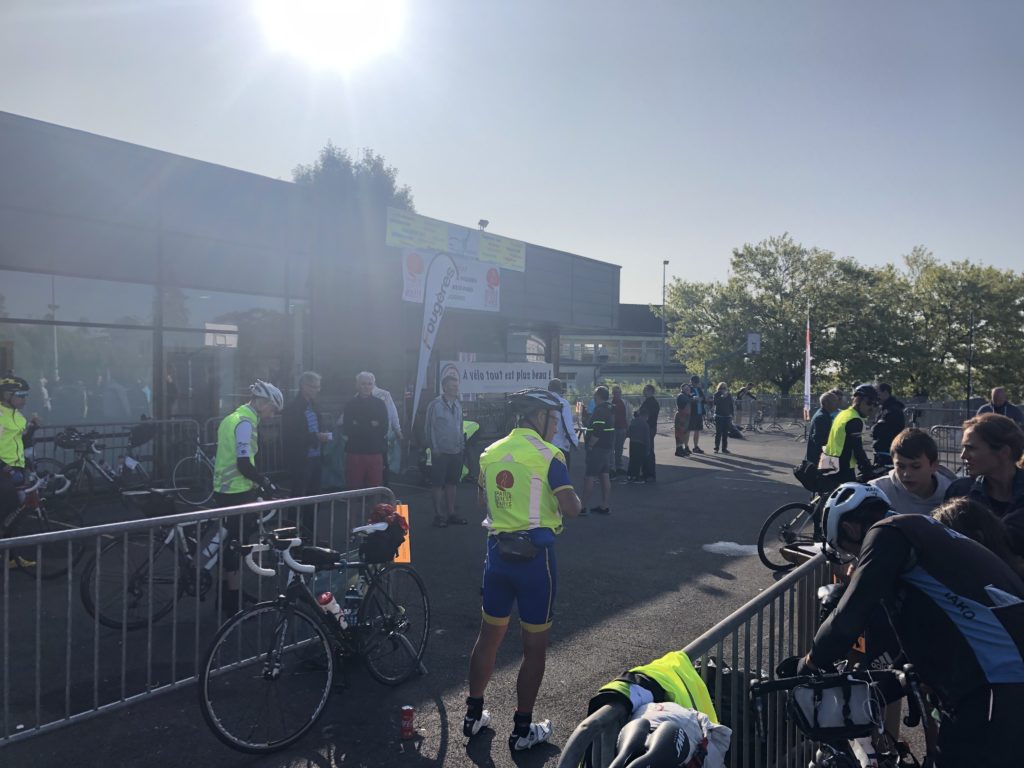 Bottles filled, sunscreen applied, and the pain train was off. Almost immediately we hit a large hill in the sun, and I fell decidedly off the back. (At the cafeteria in the Rambouillet forest I saw the Brit, and he informed me the pain train had continued right through the day until the finish). I caught another French rider who was also ejected, but eventually dropped him on the next big hill.
It became apparent to me that I did not know what was causing the diarrhea – so many variables – so starting to avoid coffee and continuing to avoid dairy seemed like a reasonable solution. In addition, I figured it a sensible idea to stop at a grocery store and try to find a vegetable-heavy sandwich to put something more appealing in the stomach.
The section was filled with steady rolling hills in the heat, so it wasn't fast going. A little boring alone as well. The first town I entered had a sign for a Utile grocer, but it was a 3 minute drive off course, so I passed on the opportunity to stop for food. When we turned a corner at the edge of town, I rode into what could be described as a strip mall in search of food, but only found garden supplies. Not so helpful!
Carrying on, I was counting how long of a section it was, and realized I would have to find a bathroom on the roadside. As luck would have it, the tiny community of Hercé we rode through had a public toilet just on the opposite side of the road! (I remembered seeing it on the way out, but did not properly note where it was, not anticipating needing it). After a lovely stop there, I carried on.
The next town did indeed have a grocer, which I stopped in. Wandering around it frantically, I discovered that they only had meat sandwiches and salads. Of course. And no veggies I could chomp on while riding…
Disappointed, I carried on.
Next stop was at a roadside stand in the town of Le Ribay, clearly set up by the town for riders to stop at. A couple club riders who had passed me shortly before were there drinking beers, but apart from them and the kind people of the stop, it was deserted. Into a hot tent I went, and asked if they had any food "sans viande". Guess what they had? Cheese and butter sandwiches!!! *sigh*
But at least I got more water as well, and pushed on.
After what seemed like an eternity, I arrived at Villaines-la-Juhel. Less intense than last time, there was still a large gathering of people, including an announcer with a microphone interviewing the tired riders as we went through in sparse handfuls. I struggled to answer some questions (it seemed like he had his own agenda for the answers anyway) before charging to the washroom with my bottles and Lycra jersey – it was time to layer down. 
I rubbed on more sunscreen, bought a croissant and coke, then started to head out. I had hoped to buy some sports bars or other non-croissant food, but could not see any. However, just at the exit to the control was the obligatory Overstim tent (some sponsor of the event) and I shoved a fistful of money at the disinterested employee manning the booth (on the phone) for a couple bars.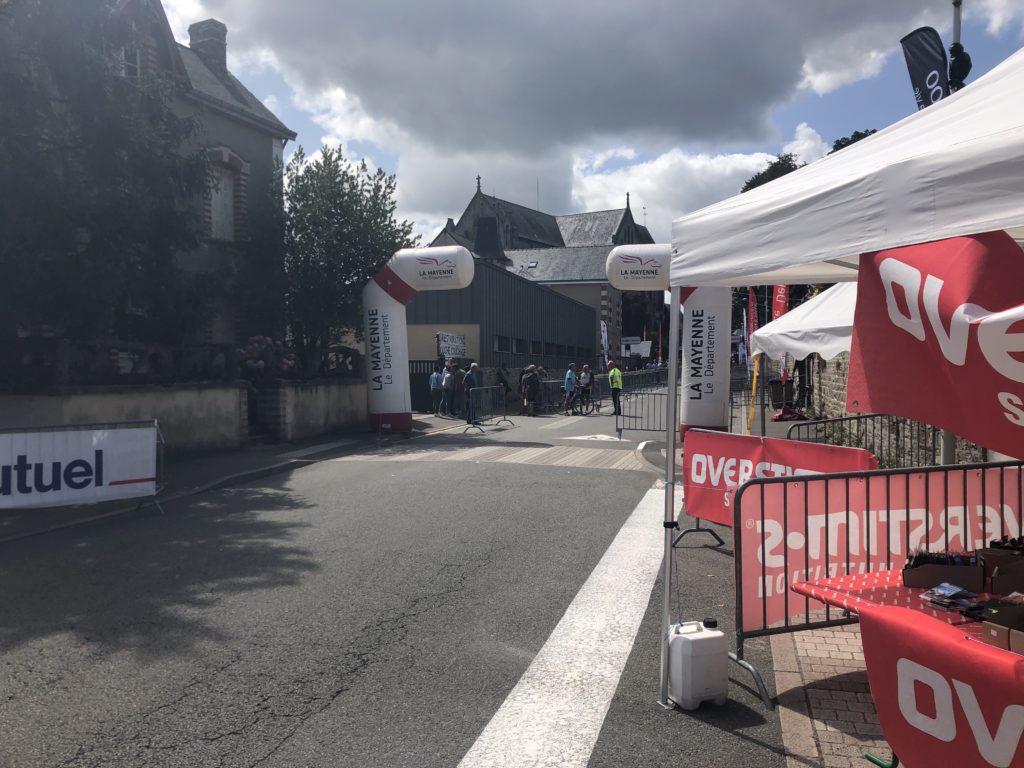 From here on was where the inevitable fiery feet would surface.
Riding on for the next bit wasn't too hard, if a bit of discomfort was present due to the feet. I was caught by another Canadian, Larry Otis, who had had a splendid run at the start – the first rider into Brest! – but then had really suffered on the return journey due to his knee. We were reasonably well matched, and rode together for a while (although I would occasionally swing into the lane while I readjusted myself when I could see no traffic in my mirror, and I think that made him a bit uncomfortable :-> )
Eventually though, as always, we hit a hill and I was unable to get comfortable either sitting or standing on the pedals and Larry rode away.
At this point the road was as straight as a ruler and carved a beautiful line into the surrounding fields; it was hard not to take in the beauty and the history of PBP then.
Larry and the beautiful roads

Fields for miles
This pain-riddled riding continued for some time, before I remembered that there's a solution to riding pain – ibuprofen! And so, I popped my first pill of the ride. It took a while to wear in, but once it did, I was much more handy at tackling the hills. In fact, at this point, a small group of riders caught me, including Mick Walsh of Seattle and his buddy whom I was introduced to, Jason. There were also several other US riders and some other riders of differing nationalities (later I learnt Swiss, German and Belgian). However, I was feeling good, and hoping that my stomach was settled, so I pushed forward up the never-ending short hills ahead and left the group.
It turns out, my stomach was not fine, and amidst some pangs and pain, the group caught me. The terrain had flattened and I was able to hang and chat with several of the riders. Nice bunch! My stomach continued to throw a tantrum and the next set of hills had me forced into a slow crawl, which, in combination with the wind, made the last kms into Montagne-sur-perche to be very hard indeed.
Into the control, I knew I had to be quick and out on the road as soon as possible, given my general feeling. The usual washroom break was strangely unproductive, but brief. I fast-walked into the controllers, then to grab some food. I saw Greg on his way out of the control as we were wandering around – nice to see he had made progress in the night.
I witnessed another rider eat something chocolate, but not a bar, and of course had to ask about it – I found out the control had eclairs! Yummmm. Consuming this and a coke, I filled my bottles, grabbed the obligatory croissant, and headed up the road. A couple of the group I had just rode with were fully supported, so I was surprised to leave before them, but I was certainly not going to wait!
On the first big hill, the group did catch me, but I was able to stick with them for the rest of the climb – the first group I've ever ridden with that had a sensible climbing pace!! At least, for long climbs. I took my last caffeine pill here which helped me finish the ride in the dozy afternoon heat.
For a good long while I was able to stick with them, chatting on the flats and up the climbs, and rolling rather quickly on the flats. The pace was right and I was able to contribute a couple pulls rather easily. The conversations were good too!
It was only during one short bump around 13kms outside of Dreux when the pace got rather furious for the group and I slowed slightly to conserve energy… and lost the group. Ejected and dejected, I cycled the remaining 12kms solo in the crosswinds until I reached Dreux.
Reasonable climbing pace!

Ze group
This control was also pleasantly quick. A bathroom break then water refill, followed by the control card signing had me complete the essentials. Apparently the group was planning a more sensible run to the finish, so I decided I'd stay with them. While we waited for a rider to finish his "full meal", I grabbed some really tasty salad-like stuff on Jason's recommendation, and I was able to eat my first non-gross bite to eat in around 1155kms!
Then, after some brief safety-vesting, we were off! Into the night and to finish the event on roads that I knew were flat, fast and to be furious. Of course, no brevet is complete without some measure of being confused at the route and scratching one's head – PBP is no exception. Mick was fiddling with his route for goodness knows how long, my route just stopped at the last control (with no way to resume the route – the track was done), and others had not loaded the alternate route. One person had the proper cues though, and between him and arrows that were notably much less prolific and less clear than we were accustomed, we managed to navigate ourself into the final section around the forests (and though the aptly named Poigny-la-Forêt).
The final run-in to the finish was frantic. We pushed a pace far less sustainable than I had hoped (good to save a little energy for the body, as not to push oneself too deep into pain), and to the detriment of hazard avoidance and comfortable riding. To my amazement, we arrived in the grounds of the Bergerie, then had to climb up the last hill in agony (but complete darkness,) and the finish the ride by riding over awful cobblestones (like, Paris-Roubaix bad), and then onto some gravel before we would hit the finish line.
There, we all stopped, and in a nice gesture, rode across the final timing chip in as simultaneous a motion as possible.
We dismounted our bikes and were informed that the control was "just out the gate and to the left".
All of a sudden BOOM goes my tire, and I have a loud blowout, and the first flat of my ride. I guess it could've been worse!
So I cyclocross-lift my bike on my shoulder, and walk over to the bike parking, "Vélo parking ici!" shouts the British volunteer in as terrible an accent as I've ever heard.
We stumble into the control tent to have our cards signed, a medal thrust upon us, and Paris/Brest control arrows offered to us as a souvenir. I did not take one at the time, but returned to take one the next day.
A warm meal was received, and then it was time to fix my flat along with figure out how to get home. As mentioned before, having some energy to get home would have meant I would be far more likely to consider riding! In the end, I caught the most expensive taxi ride of my life from the main town square to back to my hotel, successfully managed to check-in (despite my reservation having been cancelled!) and was finally back in the warmth and safety of a bed.
A satisfying end to a ride that I didn't really have any strong goals on, just to ride hard and have fun!