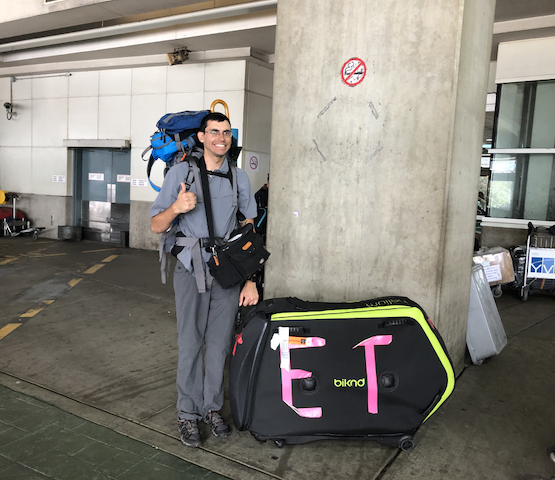 Leading Up To, and Getting To France
Although some of you may be experienced bike travellers, some might not, thus I felt it may be helpful to write a post about things to do or consider as pre-France items. As with everything, some of these items are personal preference, but they are definitely based in experience, so I would strongly suggest your consideration when possible!
Pre-event training
Okay, this one is definitely personal preference. Only you can know whether or not you need to continue doing long miles, or can get away with lots of short distances at different intensity.
However, you need to consider that the riding you do in the 2-3 weeks before the event should not:
Leave yourself fatigued for the travel days before the event, and indeed when doing last minute prep. You may sleep poorly due to jetlag, or have general travel stress. All of these combined may in turn make you more susceptible to illness. A cold that onsets just before PBP will be awful.
Try any new parts/shorts/equipment that isn't absolutely necessary. If it's not dialled by now, and unless it's hurting you, don't mess with it. The exception to this of course is newly replaced items such as cleats or bar tape.
Give yourself any saddle sores. Probably an obvious sentence to read, but if you want to do lots of riding, make sure it's not going to hurt you in other ways than fatigue!
Completely stop riding. This is an argument to not do any non-cycling related touring before PBP. You need to maintain some fitness, and keep your body ready for the ride.
If you're paranoid about injury or incidents – you have to stop the paranoia at some point and just keep doing things as you do. Maybe cut out the crazy downhill mountain biking though.
Last acquisitions
Remember, trying to find anything at home is going to be far easier than in France. Your favourite chamois cream, your favourite bars or drinks, even just the odd batteries for your bike computer will be easier to obtain before you leave the country – especially when you have the time, energy. In France things become more complicated with all that's going on, not to mention you will be speaking French and contending with 30+ºC heat.
Tubes and tools definitely fall into this category too. It's very helpful to have a packlist of what's going to be carried on your bike and person so that you don't forget any of it. Think especially of items you can buy when you get there, but might be in far greater quantities than you want, such as chain lube, or hand sanitizer.
Go over the route
Maybe not in extreme detail, but enough to be familiar with the control names, and the legs. Having a cheatsheet like I recommend in my gear post, is helpful, and now's the time to prepare it. If you want to prepare your own custom cue sheet, I'd do that (the french one is rather hard to follow).
You can also load it onto your GPS device once you're fairly certain the route is final. Of course, it's probably going to change again before the ride starts (it did in 2019!), so you should either make sure you pack a way to re-load it or load the route in individual sections so that you can ignore a section that is incorrect, and resume routing when the route is unchanged again.
Or a combination of both.
Scout out your hotel area
Nearest independent bike shop (with professional mechanics). Decathalons are nice for small things, but the mechanics are not well trained.
Nearest grocery store.
Nearest pharmacy.
Nearest train station.
Nearest bike shop that sells your brand of bike?
It's likely it doesn't exist, or if it does this might be right across Paris, but it's still worth checking on. I've had several experiences walking into bike shops and being told, "We don't service your bicycle", even if it isn't brand specific at all. Sometimes it's just nice to go to a shop that's familiar with your bike.
Travelling with your bike on an airline
There are, of course, many articles on this subject elsewhere. I wanted to outline some particulars with Randonneur bicycles and this trip
Travelling through Paris with a packed bicycle is challenging. If you're buying a bicycle case, note that only one that allows the bicycle to roll upright will have any ease of use on the Paris Metro. And you will have to carry your bike case, so ensure it has handles.
A cardboard box from a bike shop is actually quite a decent option, because you can very easily pack it full of clothes to save a bag, and they tend to hold fenders very well.
Fenders are the hardest part of a randonneur bicycle to pack, generally taking the most space and requiring the most protection (so they don't get bent and, so they don't damage anything else!). Although it may be tempting to leave them behind, some incredibly wet days around PBP in the past several editions should be enough to sway you I hope.
If you have dynamo lighting and cables, setting up your bicycle with split points using spade connectors is a great idea to help pack your bike, but also alleviate the stress on certain areas of the cable. Or you just might have to: for the first couple trips on a plane with my bike, the box I had was too small to have my fork remain on the frame, so I had to completely remove the front rack, then the fork as well. This necessitated disconnecting the dynamo wiring at the junction with my frame by the downtube.
Carry your helmet onto the plane. You just don't want to take any risks with this one.
If you're planning to take transit to save money to get to the PBP-area, try to catch a flight that arrives in Paris on a weekend or after rush-hour. The metro is nuts when it's busy, and it's not pleasant to travel in the hordes.
PRACTICE PACKING YOUR BIKE. This has been the single most useful item of prep for me in several trips. You learn what your limits of comfort are when packing your bike, you learn what tools you need and should bring, you learn what padding material you're lacking (e.g. piping insulation, bubble wrap), and you learn how much you can fit into your box.
I cannot recommend this enough. Plan to do it possible 2 weeks before your trip and then you will have time to acquire any more items. It's also great to do this process in an environment where you have great lighting and space. Assembling your bicycle in a hotel room with dim lighting can be… challenging.
Lastly, and this should not be a surprise, you'll have to unpack your bike at the airport if you have a full-sized bike box that doesn't fit in scanners (anyone with a Ritchey Breakaway case or smaller is sailing smoothly!) to prove to them you don't have drugs or something. So don't forget that last piece of travel stress before you can relax on your way to France ?