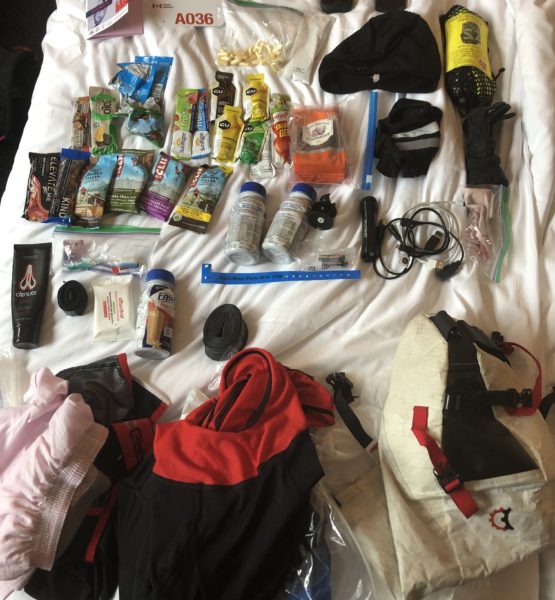 PBP – Gear & Strategies
There are many posts on gear and likewise on strategies. I'm probably going to repeat some of them, but I wanted to target a specific kind of rider here:
You're not riding with a support crew
You're likely not going to be in the bulge
You're a reasonably strong rider who can sustain their own pace
Gear choice
? Your bike is the starting point. I think you can carry all of what you need in two bags, one large and one small. I used two bags, a front Acorn handlebar bag and a Revelate Ermine saddle bag. I don't think I needed such a large rear bag.
?I took and only really needed 2 bottles of 750ml each. A third bottle may have come in handy for some of the longer sections (~100kms at start and end), but I instead opted to bring a tool pouch to fit in my third bottle cage. I have a bike with 4 bottle cage mounts, and I think I would've had a bottle in the 4th cage given the choice that mostly ran empty.
⚙️Literal gear choice, the gears on your bike – they're up to you and what you've had success with. No climbs were too long. I ran a 50/34 x 11-32 since I like to spin up climbs. I would have survived with an 11-28 I'm sure.
?Definitely bring a set of rain gear. For me this was one ultralight jacket, wool gloves, and a pair of booties. Thankfully for me it didn't rain, but it could, and these also double as warmth-giving items.
?For general warmth, I run very hot. Keep in mind the temperatures drop to feels like 4ºC at night. I packed:
A vest (Garneau course speedzone)
Arm and knee warmers
Wool gloves
A simple skull-cap
I never used the wool gloves or the skull-cap, but I do not regret taking them. If there was extended periods of rain, all these would have been used. With no concrete forecast for rain, I don't think you need a vest – the rain jacket should suffice.
I never wore the vest and the jacket at the same time.
If I had slept outside this might have been the case, but there's no real reason to since you can sleep at the controls!
?As far as tools and spares went, I took a risk. I brought 3 tubes and a tube fixing kit. I also had 2 master link sets, extra lube and a multi-tool. Interestingly, my lube worked so well I never had to lube my chain!
I would recommend taking as little lube as you can.
Notable missing items for me because it was such a large event: chain breaker, spare tire, cables. However, I did have friends who were unable to obtain said items because of old/obscure parts (old campagnolo items, small wheels) so don't expect a ton of the control mechanics.
Oh, and don't forget a small amount of electrical tape (I wrap around my mini-pump), velcro strap, and zipties. You never know, and finding anything in the middle of France…
?Spare clothes is a category that will highly vary on the person. My spares included 2x shorts, 1x lycra jersey, socks. I think I would've been better with only 1 extra pair of shorts, no lycra jersey (ride in a single wool jersey the whole way), and no spare socks. I also brought a pair of sleeping shorts. They were never even touched!
I would be curious how this feeling might change if there were significant rains on the ride – having dry socks is always a nice change when it's totally wet!
?Electronics are again personal, but a few notes:
Do not count on getting access to a plug. Most controls had charging stations, but they could be very full. And the time really slows you down. You're far better off with a dynamo hub in terms of time spent. I had great success charging my Garmin external battery pack during the days of the ride.
You cannot use headphones while riding in France. That is the law. I did see all manner of strange things on the road, including a french rider talking to his wife/friend all of the first night of the ride via headphones. So, make your own choice, but I urge you to consider the example you set and the country/club you represent.
The route is well marked. You do not need a GPS. By it was very useful to have, especially the turn-by-turn features of my Garmin.
I could spend an entire post talking about the best cycling GPS, so I won't touch on it here, but feel free to ask me anything!
Having advance turn notice, and being able to scope out what's coming next (particularly for eating and changing) was very helpful. And of course when you get tired, things just become more challenging overall. Trust the arrows when in doubt.
Having a phone with a local SIM was quite useful for looking things up mid-ride for me (e.g. "Anterior knee pain cycling"). Get a sim at the airport and don't bother wasting time looking for a local shop. It might cost you 10€ more, but it'll save you at least an hour of time. Just make sure the SIM will last the duration of your stay in France!
But keep your phone on low-power mode otherwise. You want it to last the ride ?
Personal Care Items
? For these, I would've faired better with more of these and less of clothes. Remember, these items are not strictly necessary when you don't need them, but when you do, expect time savings from 30mins-2hours when trying to find their equivalents…
Since showers take time, antibacterial wipes are an easy way of accomplishing the same goal. It's better to have a liberal amount of these, as in a pinch, they can double as TP (so long as you get the sensitive ones, and not something like citrus, which may sting some sores).
If you are a chamois cream user, I would highly recommend bringing sample sized packets of your favourite cream. And if you can, just use a whole package per re-application. Fiddling with how to store a half-used packet is not worth it.
For other hygiene bits, I bring a small bottle of hand sanitizer and a Cat's tongue towel (no longer sold ?). Very useful if you have to make a roadside emergency stop, or in the very likely case, the bathroom you use is out of soap.
Included in this for me is your supply of pills – ibuprofen/Advil, paracetamol/Tylenol, caffeine, throat lozenges, etc. I don't actually bring the lozenges on a ride unless I have a cold coming on, but if I do, they're invaluable. Carrying your own supply of the other pills is also ideal to save time looking for them at a control or otherwise. I'd also highly recommend carrying some loperamide/Immodium for diarrhoea, as the controls do not adequately have the ability to help you.
And just because I have swelling issues, I always bring a small/sample-size tube of Voltaren/Voltarol.
Sunscreen and lip balm -> Sport sunscreen will last longer and generally be less greasy. I take a small amount in a "GoToob" or similar. SPF lip balm is good. Lip balm with menthol will likely just irritate your lips over days. Test both of these before PBP! Nothing worse than riding with skin irritation from untested sunscreens…
Lastly, a toothbrush is always kind to your teeth. The "Rolly Brush" is your lightest commercial option, or you can do what I do, and get a mini toothpaste container from your airplane, and take a toothbrush cut in half.
Food
I was recommended to take around 250kms worth of food.
I stand by that. Being able to avoid stopping for the first couple stops really aided my speed. And you can always buy more energy bars and gels at the Overstim (or equivalent) stations. Just remember that there are regular gels and isotonic gels. You need to drink a bunch of water with regular ones.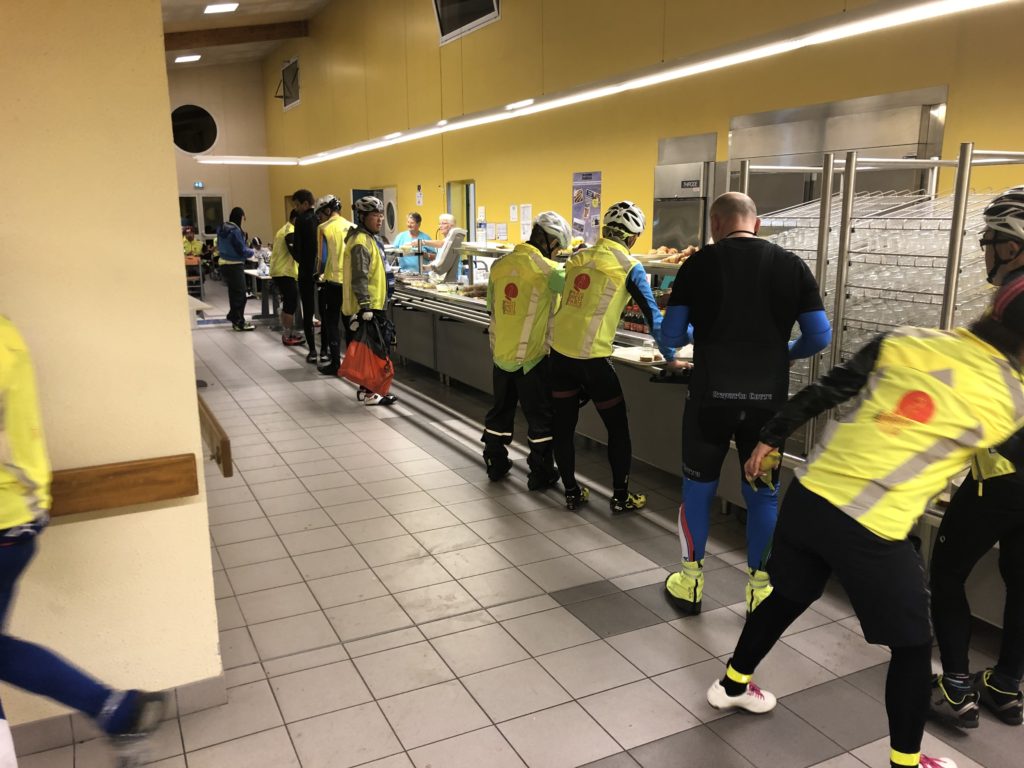 I was warned there would be little food for me as a vegetarian at the controls. This was the case. I had croissants only at most stops. There were occasionally cheese and butter sandwiches (on a baguette), but mostly they had ham in them. The Carhaix control at 500-something kms was the first to serve non-snack food for me. So if you can find a way to avoid this (boulangerie food, or stopping at an unofficial roadside aid station), you should.
Especially if you have dietary restrictions.
The challenge, of course, is that you can't pre-plan the stops – things like Google are out of date, or do not account for August french closures.
For water, know ahead of time approximately how much water you drink per 50kms. If you'll need a refill, plan to take one in a given section and stop as soon as you see someone offering water! People are wonderful and generous, but the spacing is not consistent, and you might pass three stands in a short period, and see none for the rest of the "stage" (between controls). Obviously, be more prepared for the night sections as there may or may not be people on the roadside, depending on the area of France.
Control Strategy
You can buy water to save time, but you never have to. You can always find a water filling station at the controls/stages.
Never leave your bike without your water bottles. I guarantee you there will be a station to fill your bottle which will be further from your bike than you expect and require additional walking.
The controls are set up as to have a logical flow between the card signing and the rest of the steps one might take. This means if you get your card signed first, you would usually be led into the next area by following signs.
Bring a significant amount of cash for food, and some small trinkets for roadside stops. I brought 200€ (which I did not use close to) and some Canadian Populaire pins (gifted by my club) for any persons at the stops.
I happily did not use anywhere near this amount, but I felt far safer having more than less – restaurants and bars would of course charge more for a proper meal.
Be aware of the bottlenecks of your particular control. The food purchasing is never an efficient process, and many of the volunteers, "bless their hearts", have trouble adding up the prices. For efficiencies sake, don't argue, just pay the extra/less, and move on. As the lineups increase, so does the frequency in which individuals buy large amounts of strange combinations of things, which tax the controller's abilities. Hit the lines first then leave your food on the table while you visit the bathroom if you must!
Also, don't be afraid to walk up and down the line twice to see what food is available. Think twice, buy once.
Only the main controls, not the stages, are equipped with first aid (Station Médicale), so be aware if you are having any issues.
If you want food to take away, plan for how you will carry this ahead of time. Maybe your extra bottle will contain orange juice. I highly recommend bringing plastic bags for croissants/sandwiches (I brought and used 3 small bags and one big bag).
As you move further into the ride, you're more likely to overlap with the outgoing riders. This will make some controls crazy busy as you enter the heart of the bulge. Eat your major meals before/after this. Ideally, you push through those stops, having slept/eaten in the 400-700km window, or the 900+km window.
If you start with the 84h group, you'll spend a fair amount of time passing groups. Your timing will be based on your pace relative to the bulge. It would be wise to sleep early and later, or to be more adaptable, so that if you enter a control that is packed and hard to find a sleep spot you can carry on. If you feel it within your means to book a hotel in advance, this would be the time to do so!
DO NOT RELY ON THE CONTROLS TO WAKE YOU IN THE ALLOTTED TIME. I have heard many stories of riders sleeping beyond their desired wake times. You alone are best responsible for waking yourself. I highly recommend a watch that has a built in vibrating alarm feature. This is an effective but silent way of awakening yourself – particularly if you're interested in a 0-1h sleep stop.
A Predetermined Ride Plan
Some find it helpful to have a plan. I always make one, with sample control break times, average speeds etc. to give me an idea of when I'd get to a given control. I of course, barely stuck to it, but the exercise was good.
My friend added in a calculation of average grade for each stage, which I think was super helpful. My recommendation after this ride is to have an easily readable cheatsheet (toptube or otherwise with: a list of the controls, the distance to/from the next control, the average grade of that segment). These pre-calculated distances are very helpful for thinking about average speed/time on the bike when you are a tired rider.
"It will be a 4 hour period probably before the next control, given the 80km distance and lots of climbing. I should plan a meal now."

— Unknown hangry rider
I personally have no difficulty missing control closing times; however, when something medical, mechanical, or otherwise unplanned comes up, then you need to know when your control closes. The control card times are not personalized for your start time. So you'll need to have done the calculation yourself for when your card opens/closes. Keep that handy somewhere. And if you miss a time, well… don't tell the controllers, they won't know. Just make up the time ?
Of course there's lots out there on the internet (see the intro page) with strategies and advice, but it was not concentrated and specific enough for me, so this is my take.
Please feel free to discuss or ask questions – it will help more than just you!